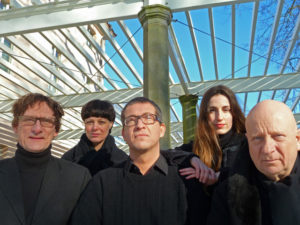 Phosphoros Ensemble
Meinrad Kneer's Phosphoros Ensemble
Almut Kühne – soprano
Uli Pleßmann – reciting voice, actor
Frank Gratkowski – clarinet & bass clarinet
Kathrin Pechlof – harp
Meinrad Kneer – double bass, composition
Two creations in one: the chamber music group Phosphoros Ensemble and a project based on the poetry of German writer Christian Morgenstern (1871-1914).
Meinrad Kneer is not new to the exploration of poetry through music. After having dedicated a project to the Russian absurdist Daniil Kharms and another one to the Russian futurist Velimir Khlebnikov, for him, the logical next step was Morgenstern. His oevre has many different facets: next to its famous humouristic wit, there is a philosophical/ serious side and a peculiar sound poetry. Above all, his rhythm and his neologisms are legend.
The program consists of Kneer's original compositions and collective improvisations on poems, recited by Uli Pleßmann.